Jumbo Jet
Park
Cedar Point
Park section
Unknown
Opening date
1972
Closing date
1978
Height
56ft
Drop
56ft
Speed
50mph
Replaced
Cyclone
Replaced by
Disaster Transport
GateKeeper
Wildcat
 Jumbo Jet was a steel rollercoaster that was located at Cedar Point. It opened in 1972 and was closed in 1978.
Ride history
Edit
Jumbo Jet was first manufactured by Anton Schwarzkopf. The coaster was put in the beach front location where coasters like Cyclone and Wildcat once stood. The ride closed in 1978 and was replaced by Wildcat in 1979. Today, GateKeeper stands there.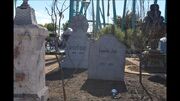 Ride synopsis
Edit
After lifting, like all the Jumbo Jet coasters, it went down a series of gently-spiraling helixes. After spiral lifts, riders dropped 56ft into a series of tight turns and figure-eight patterns, before ending with a double helix.
When it first debuted, Jumbo Jet was the fastest of its kind.
Statistics
Edit
Instead of lift chains or launches, Jumbo Jet coasters had wheel motors of the helix inclines.
Jumbo Jet was the first Anton Schwarzkopf Jumbo Jet coaster out of the three Schwarzkopf planned to make.
After closing at Cedar Point, Jumbo Jet went to four other amusement parks. 
Photo Gallery
Edit